On my way home from work last Thursday, the night the Parenthood series finale was broadcast, I noticed a bumper sticker on the slightly banged-up Toyota in front of me: "Life isn't about avoiding the storms; it's about learning to dance in the rain."
Every person's life is both a comedy and a tragedy. Wonderful, absurd things happen. Terrible, soul-crushing things happen. And it's up to us to figure out how to cope, and strive, and grow, and find the joy where we can.
For six seasons Parenthood portrayed that struggle better than any show on television, in the context of a complicated, tumultuous, often painfully realistic family. The large ensemble cast orbited around close-knit siblings Adam (Peter Krause), Sarah (Lauren Graham), Crosby (Dax Shepard) and Julia (Erika Christensen), and featured their parents Zeek and Camille (Craig T. Nelson and Bonnie Bedelia), their spouses and significant others, and their kids (five as the pilot opens, and several more by the time the closing credits roll on the finale).
The drama's sixth and final season came to a poignant and deeply satisfying close on Thursday night with a series finale that ranks right up there with, well, the last two drama series featuring creator Jason Katims and co-star Peter Krause (Friday Night Lights and Six Feet Under, respectively).
Along the way, did the Bravermans occasionally seem either a little too earnest or a little too suburban/entitled, wrapped up in all of their First World problems? Sure. But they never stopped feeling real. Moment after superbly crafted moment felt like a funhouse mirror image of things that happened in my own life and home and family, and that's what good drama is supposed to do—show us a reflection of our own lives and offer us a fresh perspective on the experiences that made us who we are.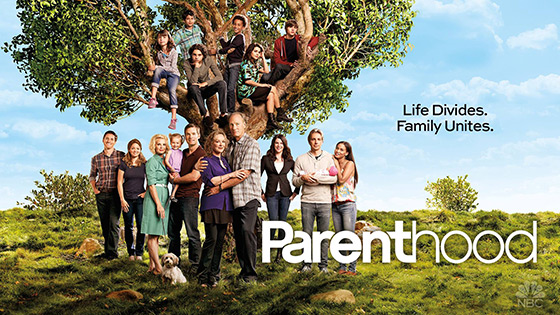 One of the many remarkable qualities of the show is that different viewers gravitated toward different characters as the emotional center of the show. For some—including creator Katims, who modeled this thread on his own life—it was Max, the child whose special needs come to the fore in the pilot episode, and whose struggles with Asperger's Syndrome affect the rest of the family in myriad ways. For others it was Kristina's battle with breast cancer or the crumbling of Joel and Julia's marriage. These threads and the moments they led to have spawned a hundred different compilations of Parenthood scenes that made us cry (here's one, and here's another).
For me, though, the emotional center of the show has always been Amber (played by the amazing Mae Whitman), the initially tough-skinned screw-up daughter of screw-up daughter Sarah, who dealt with one setback and bad decision after another in the way real teenagers do, feeling sorry for herself and acting out before eventually picking herself up and throwing herself headlong at the next obstacle in her path. We watched Amber grow up before our eyes, even as she was forging one of the most rich, multilayered and realistic sibling bonds ever portrayed on TV with younger brother Drew (played by Whitman's real-life bestie Miles Heizer). Her most important relationship during the series, though, would turn out to be with her grandfather Zeek.
And while Amber and Zeek had some great moments in the final season—her confession that she's pregnant out of wedlock, and his reaction, and her announcement of her baby's name (a shot I called months ago)—none of it would have had half the impact it did if not for the scene shown below, a two-minute scene from the Season 2 finale that cuts right to the core of Parenthood. If being a parent is about anything, it's about the dreams we have for our children (and grandchildren), and how fiercely we will fight for them.
In the scene, Amber has been in a downward spiral since learning she didn't get into college, and in the midst of a night of partying, has been hurt in a car accident that could easily have killed her. A couple of days later, Zeek takes his granddaughter for a ride, setting up a scene that was a turning point not just in that particular story arc, but in Amber's life, and in her relationship with her grandfather. [With apologies for the ads Hulu insists on inserting up front… Persist; it's worth it.]
Creator Jason Katims was recently asked a ridiculous question ("If aliens invaded Earth and your show was the only pop-culture remnant, what do you hope it would say about humanity?") that he answered with complete sincerity: "I would hope that it would say that humans always tried to put their best foot forward in life and that humans tried to be the best versions of themselves that they could be."
That's what, with the end of Parenthood, is now missing from television. Hopefully someday soon another quality family drama will step up and fill that void and teach us again what it means to be human, and how to dance in the rain.
Goodbye, Bravermans.